The Ilumni Institute is proud to present Raising the Bar. We are committed to
providing Family Law attorneys with relevant and engaging content to enrich
their service to their clients.
The Case for Forgiveness for Family Law Attorneys
Gain clarity about what forgiveness is and what it is not

Learn how to identify the elements of a grievance

Explore what it takes to diffuse a long-standing grievance

Learn how to leverage the forgiveness framework to avoid creating a grievance in the first place
Overview:
The field of law is one of the most stressful and demanding there is. It is well documented that the strain of legal practice takes a huge toll on lawyers, both professional and personally.
This interactive presentation will advise family law professionals of how forgiveness can be used to release burdens of the past that cause ongoing suffering. It will also present tools for addressing difficult situations as they arise.
Eileen Barker, a former litigation lawyer who rejected the traditional adversarial role, now focuses her practice on mediation and conflict resolution, helping thousands of people resolve disputes outside of court.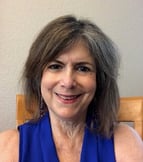 About Eileen Barker, J.D., Mediator, Barker Mediation
Eileen Barker started her career as a trial attorney at the US Department of Justice and was then a litigator at one of San Francisco's top law firms. She left the traditional practice of law in 1995 to devote her career to mediation. This eventually led her to an exploration of forgiveness and what it offered in terms of resolving conflict and restoring peace.
For the past 20 years, she has led numerous trainings and retreats for lawyers, mediators, and others across the US and Europe. She established a forgiveness coaching practice and published the Forgiveness Workbook and CD. She now trains others who wish to become forgiveness coaches.
Register Below
When: July 27, 2022
12:00 - 1:15 p.m. PT (3:00 - 4:15 p.m. ET)
Where: IlumniU (via Zoom)
Cost: $55 (complimentary to guests of CDREs)